Topanga Banjo Fiddle Contest & Folk Festival
Paramount Ranch, Agoura Hills, CA.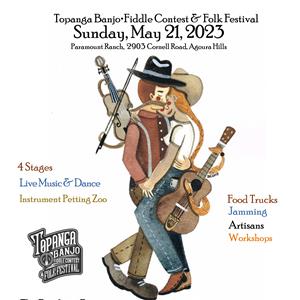 Featuring:
The Brothers Comatose • Hillary Klug
Maria Chingona • Hot Buttered Rum • Martha Spencer • Dirty Laundry Gilbert Louie Ray • Roses Pawn Shop • The Lowest Pair Victoria Bailey • Legends of Topanga • Matt Axton • Rosy Nolan • Echo Mountain Ikes Creek • Smoke Holler • Old Jitters • The Hollow Trees • Anvil Sky
Artist at Large: Water Tower •

Featured MC and Performer: Abby Posner



9am ~ Contests
12pm ~ Live Performances

Children under 10: FREE
More information about Topanga Banjo Fiddle Contest & Folk Festival tickets
Shade structure are permitted as long as it doesn't interfere with another activity or jamming group. If it's a large shade structure, a TBFC Board Member will need to approve the location. We reserve the right to ask you to relocate any shade structure upon request.

CAMPING: Paramount Ranch has no camping facilities, however, Malibu Creek State Park has overnight camping in Malibu Canyon. Call to reserve sites at (818) 880-0365 for more information. And, please no generators in the parking area.

Dogs must be kept on a leash.